Glass office designs
Glass desk designs have been considered a popular choice in modern and cool offices for years, and they are even more in demand with the work-from-home mode that started this year.They are a good choice more than just stylish offices when you need to add a custom workspace inside the house, because their transparency makes them visually illuminated in the arrangement of your decor.They also do not block natural light as it flows through the space, and for information, the design of glass offices is usually easier to move than heavy wooden pieces, as when the days of work or study from home are over, glass offices can be reused for other decorative purposes at home, such as a dining table or placed at The entrance to the house as a decoration of the corridor with the addition of some accessories, planting, etc..Here are some great options for glass office designs in all sizes that suit your decoration needs..
Glass offices have a combination of charm and beauty, besides minimalism, they are characterized by a soft and transparent elegance.That's why SMD decoration company in Turkey offers you some elegant and simple selections of modern designs for glass offices.
Balhi suspended glass office
The balhi glass hanging desk will serve you in a functional and practical style for many years thanks to its elegant style.The modern design is light and airy and features two small drawer units at each end of the bottom shelf, the top of the half-inch thick tempered glass rests on a simple frame whose legs are in The Shape of the letter X. The 776 stainless steel finish adds a charming touch to the overall look.The two-drawer units are made of durable fiberboard, however, it is possible to assemble the desk without them if you prefer.Both are equipped with a metal roller slide that ensures smooth operation, each person can carry up to 10 pounds of necessities.Assembly is required, but buyers like how Ease of operation, although it is advantageous to have someone else available to put the glass cover.Many praise its quality and good appearance, note that the drawers are already small, the balhi glass writing desk is fireproof and comes with a one-year product warranty.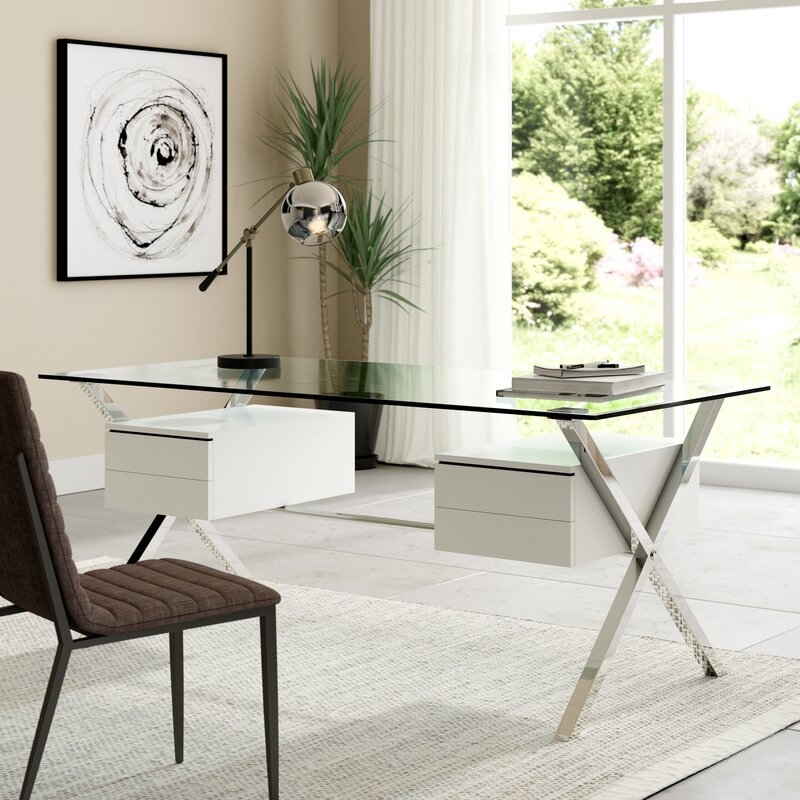 Graeme's office is two-sided
If working or studying at home is temporary, the Graeme two-sided desk is a great option because it can be easily used as a console table as well.The design of this table allows you to sit on any side and its contemporary design looks great and can be placed in any room.The design of the office in this form is especially useful if you need to set up a workspace in an area that is a public living space, as its slim appearance is unobtrusive, but it still has plenty of space for a laptop, a lamp and some small office essentials.The shelf under it allows you to store notebooks and papers out of the way when they are not needed.The table top and the Graeme Desk Shelf are made of Transparent glass, and the chrome-plated metal frame has characteristic geometric designs that form the legs.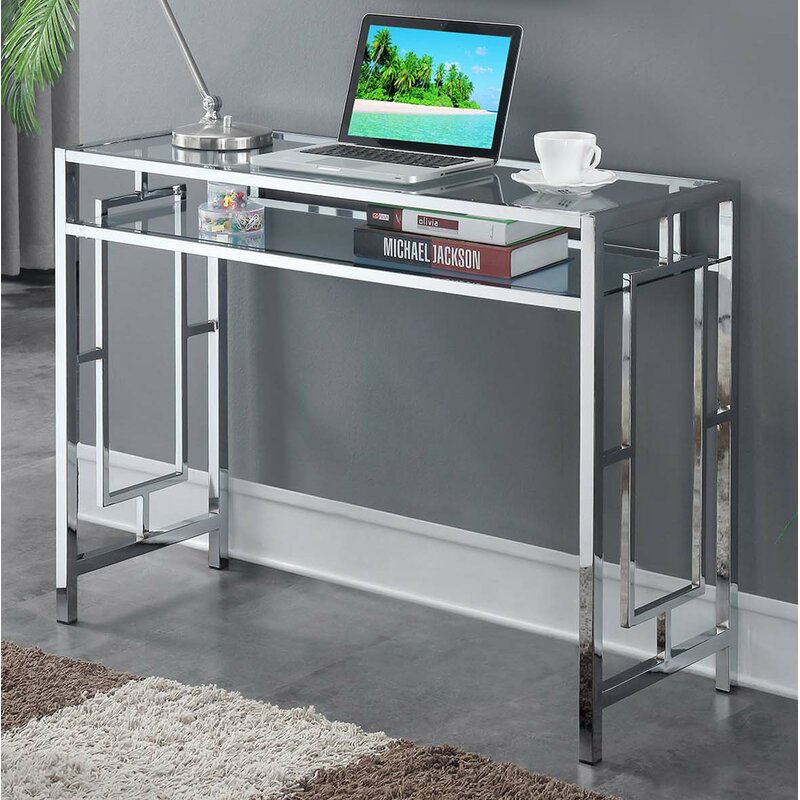 IPhone glass desk
Designed for small spaces and limited budgets, the iPhone glass desk is perfect for setting up a custom workspace in any room.The elegant painted metal frame is durable and supports the tempered glass surface as well as the sliding keyboard case.It also has adjustable feet from the bottom to make sure the desk is level, although it is small in size, this desk can hold up to 100 pounds, so you don't have to worry about your computer or monitor.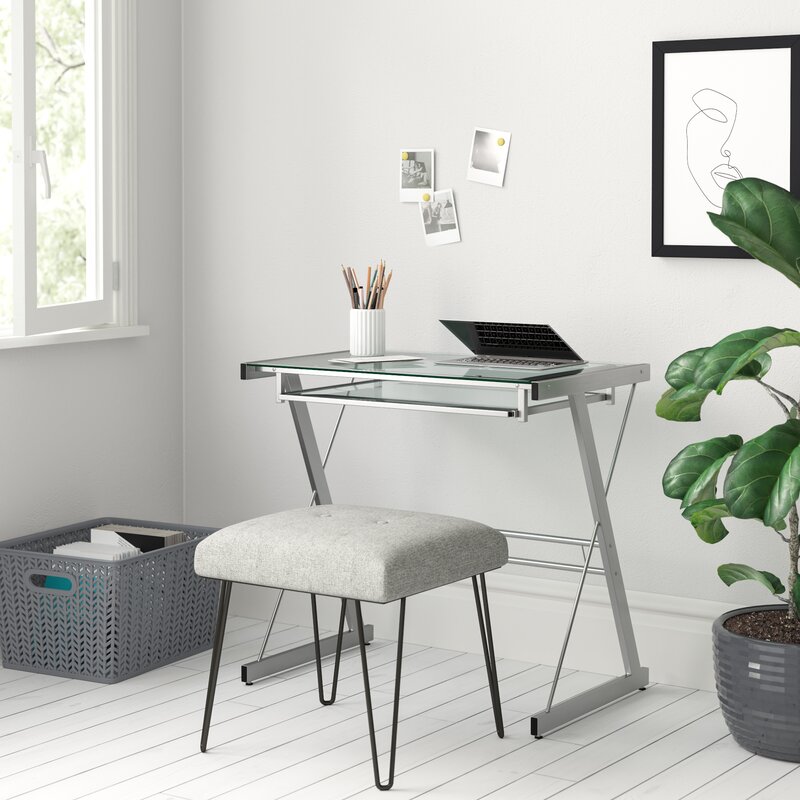 L-shaped glass desk
If you have the space and you need to spread out when working, a glass desk in The Shape of the letter L is suitable.This desk has elegant and simple X-shaped legs that support the top of the quarter-inch thick tempered glass.The office already consists of two identical desks and a corner piece, which can be separated and set up as two separate parts if desired.To obtain a large U-shaped arrangement, two of these L-shaped units can be placed together.The smooth beveled glass surface rests on a durable silver-plated steel frame.Under one of the sides, a convenient glass keyboard case slides out for convenience and to keep the keyboard out of the way when you don't need it.The office also The Cloer glass desk is extremely sturdy and capable of holding up to 100 lbs.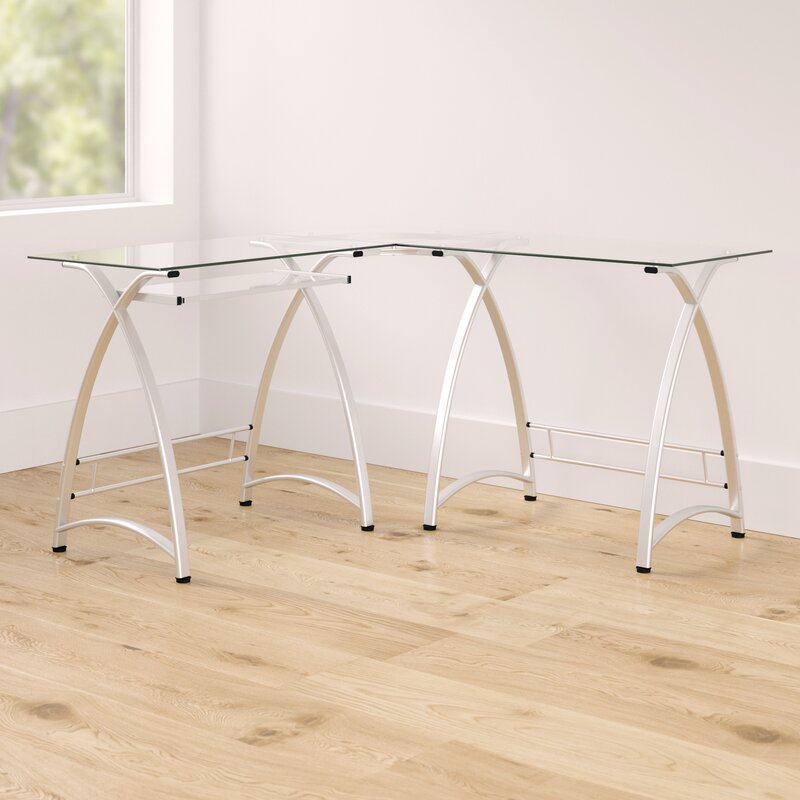 500pcs rectangular dash puzzle table
Not all glass office desks are intended for work, as some of them are designed to make fun with puzzles more comfortable and convenient, a puzzle table, perhaps originally developed for drawing, but also perfect for crafting, puzzles and a stylish modern piece for any room in your home.
A large tempered glass worktop can be tilted up to 35 degrees, whatever working angle you prefer.It can also be locked in place for a flat surface, and it is also durable with a metal base and a frame in black. On the sides, built-in trays can hold puzzle pieces, pens or other industry supplies, and a set of attached drawers adds more storage space.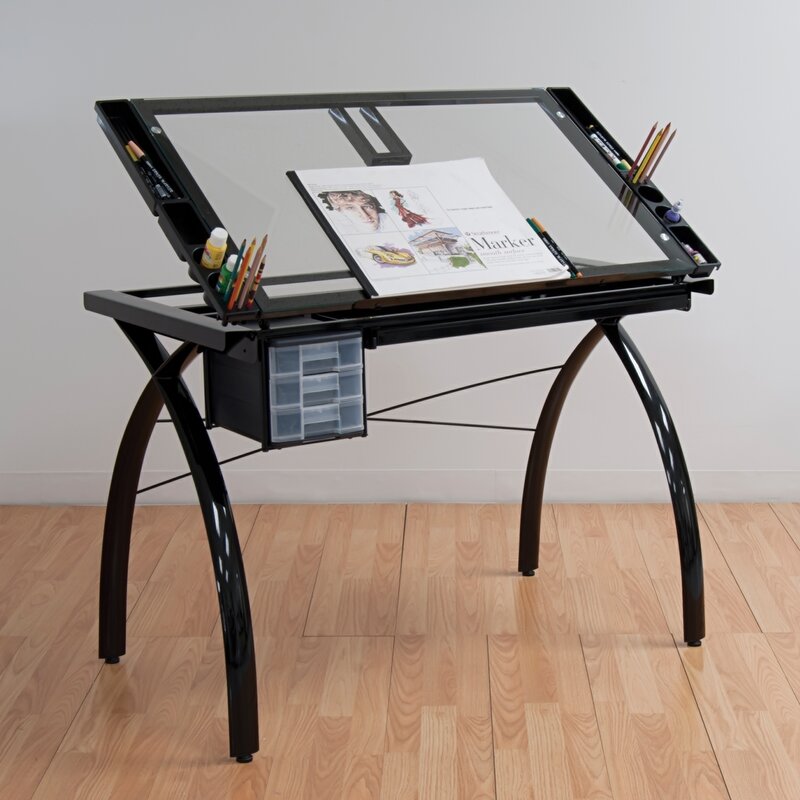 Broseley computer office
If you are trying to carve out a dedicated workspace outside the living room orfamily room, a properly designed desk for work, such as this Broseley computer desk, is the key contemporary style works easily with most types of decor and has enough flair so that it does not seem to have come from a local department store.The desk, covered with strong 8mm toughened glass, can support up to 200 lbs which means it will last. At the bottom, the silver base has durable metal tubular legs that are further fixed by cross beams in the form of a ladder on the sides.Also under the glass surface, the keyboard drawer slides the full width of the desk for convenience.You can also store a notebook or papers on the tray when you want to clear the top.If you don't want or need the sliding stairs out, no problem.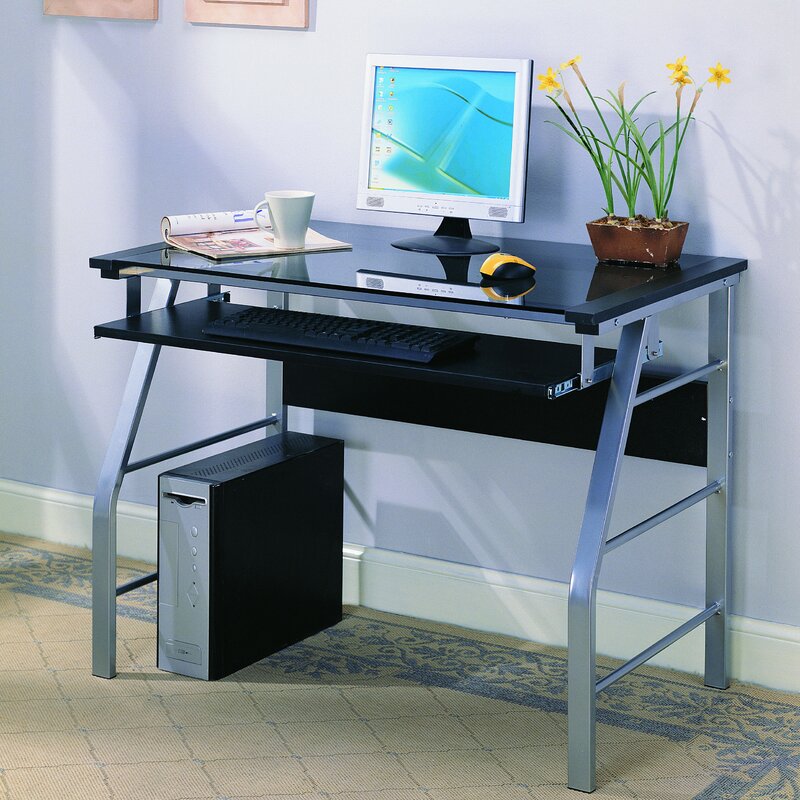 A glass desk from Moffett
For the ultimate in style when it comes to setting up your home office, check out the glass desk from Moffett.The amazing base has elements of mid-century modern design, or maybe a bit of a Nordic atmosphere. Either way, it is a great complement to the contemporary decor in any room thanks to its architectural lines. A wide tempered glass surface with a thickness of 0.39 inprovides a full view of the elegant solid walnut frame, shaded with brass parts.Reversible orientation allows you to position the desk as necessary, so it is always attractive and practical. The Moffitt glass desk requires assembly, which can be done very quickly using only a screwdriver. Due to the size of the glass, the manufacturer recommends having a person on hand to help you put the glass.Happy buyers say that this is very stylish, very study and saves a lot of work space without seeming to crowd out other furniture in your room.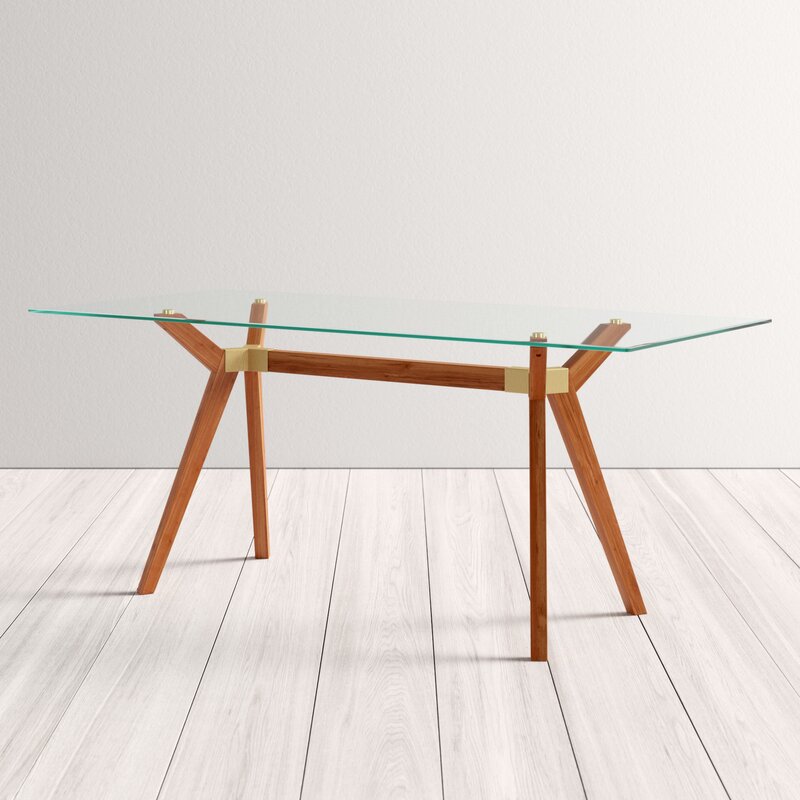 L-shaped foldable folding desk.
For a piece that elevates the design flair to a whole new level, it's an L-shaped folding desk.More than just a glass surface and an ordinary base, this one has an unusual shelf-like base and is characterized by being practical and stylish.It is this modern look on the typical glass office desk that will receive a lot of praise, besides giving you a great workspace.The most unique feature is the rotating glass partition that can swing from its L-shape and be placed above the shelf, turning it into a more compact desk or a table in a consultant style.The tempered glass top has a thickness of 10 mm and supports up to 75 lbs, while the base is made of metal and Wood made in white The soft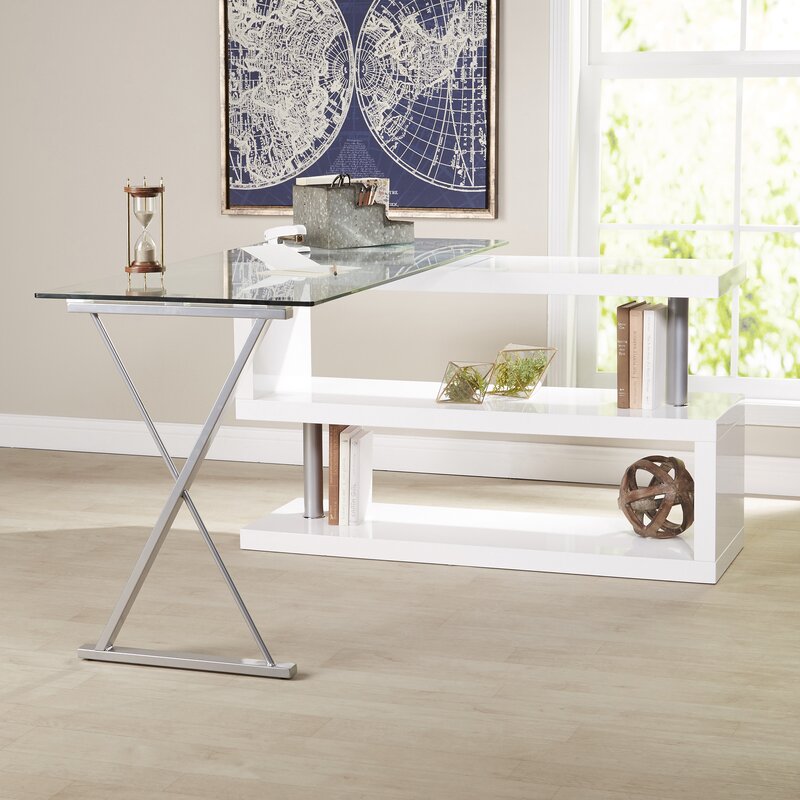 Phoebe glass office
Ideal for creating a workspace in a smaller apartment or house, this glass desk is easily integrated into an unused corner.Despite being compact, it offers enough working space for the screen and keyboard along with other work essentials.There is also a drawer under the top where you can store as necessary.
The top is made of 8mm thick tempered glass that supports up to 15 pounds. The elegant base of the desk has angled legs that add some flair.The base and shelf are made of a combination of processed wood and bamboo, buyers should note that the shelf is fixed and does not slide out.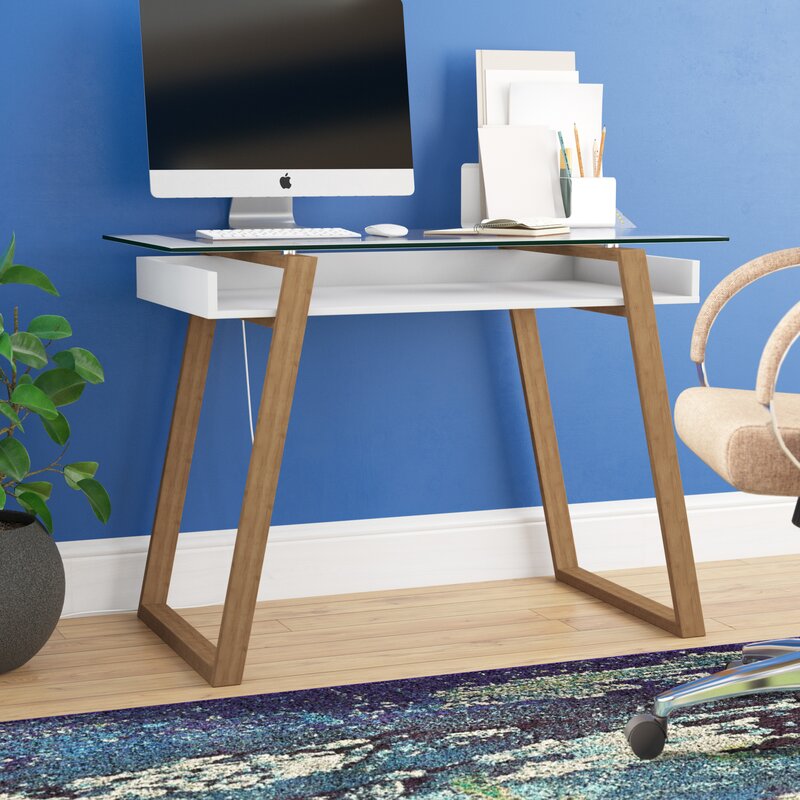 Lucite glass office
Officelucite Glass from Mod Shop is the best charming decoration for Your Home Office, shining and sparkling with an archaeological presence that makes sitting down to work a real pleasure.The entire desk is made of solid material and then topped with 0.25 inch thick Starfire glass. The amazing carved legs are tapered for an extra look.The 30 × 60-inch has plenty of work space, lamp space and much more.The sturdy nature of the desk means you'll need help positioning the desk as it weighs 250 pounds.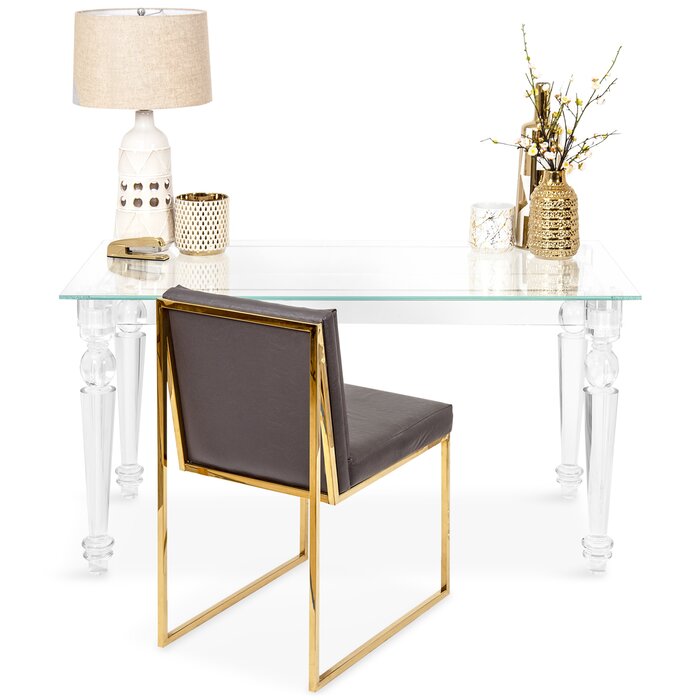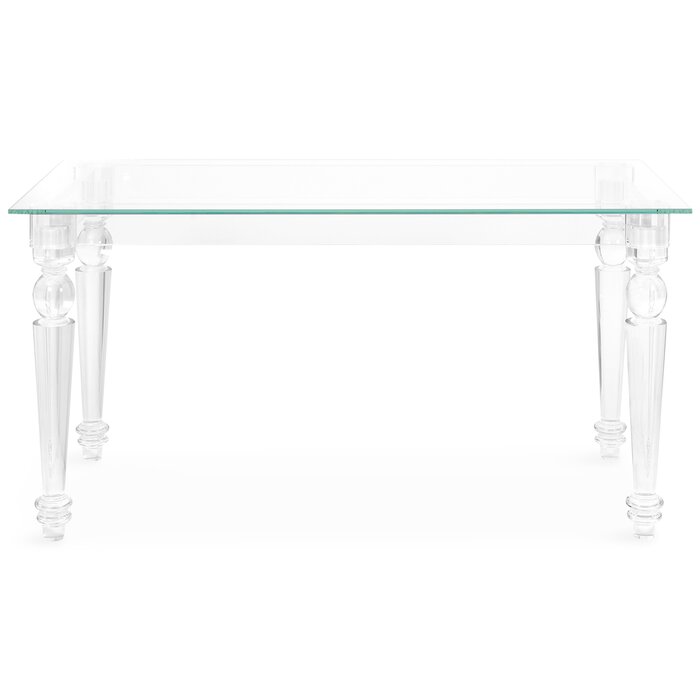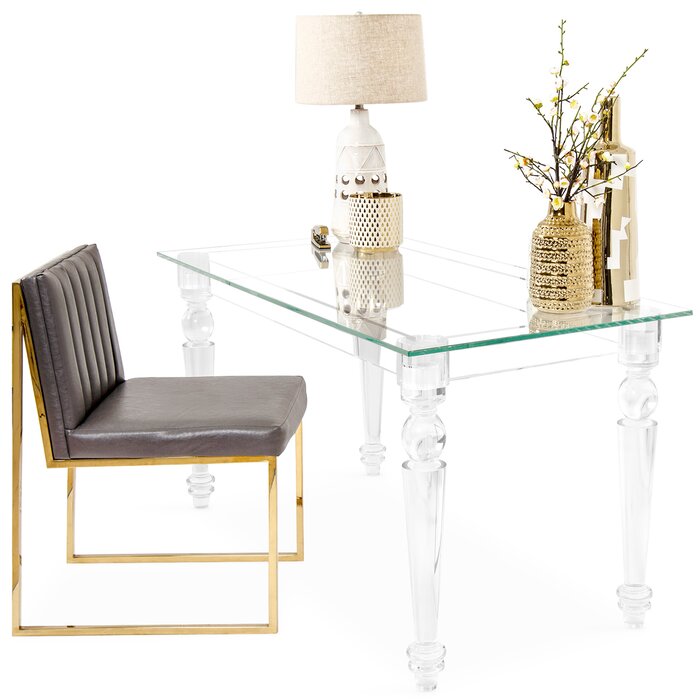 Asotin L-Shape
 Asotin L-Shape  Beautiful and uniquely designed, the glass legs are intersected by horizontal elements made of wenge wood and white lacquer.The elements of the three side shelves alternate with wood and varnish, and the middle part features two convenient sliding drawers to hide any clutter in the office.The overall appearance is modern, giving any home office a lot of Flair, made of glass and crafted wood, the Asotin desk is a very attractive piece with a completely different geometry whether you use horizontal elements as shelves or just appreciate it as a design piece, it will make sitting to work more beautiful the desk requires assembly and the manufacturer suggests that it is better for two people to assemble it together.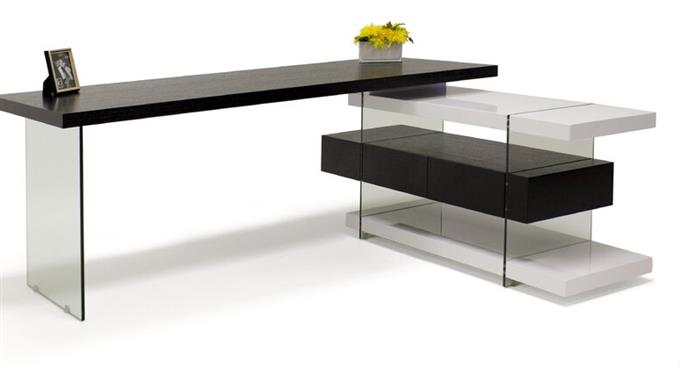 It is worth mentioning that whether you have a dedicated office space that needs to be upgraded or if you just need to create a workspace for a temporary period, there is no reason why you can't create a space with a lot of style and attention.Also, placing a glass desk in the center of the work area creates a very convenient and attractive place to accomplish a lot of your tasks.
Glass office designs