The trends of studio decorations 2021 are characterized by being small in area, so many may see it as an inappropriate place to live, but studio apartments help to face the crisis of expensive apartment prices, so that decor designers have devised several ways to furnish those apartments with small areas.The idea of a studio apartment allows a couple to live in it at the beginning of their life, as it does not need high costs when finishing it, and it is also possible to design it with dazzling decorations that can not be imagined despite its small area, the decorations of these apartments may reflect a unique vision of life
Studio decorations for the year 2021
 
We created this complete list of several ideas for the design of small studio apartments because we wanted to inspire the owners of these places and encourage them to use their imagination, creativity, and search for unconventional solutions. Our experience leads us to believe that compact life is a global trend that will become stronger in advantage. As an example, more and more people are choosing to live in big megacities and make their home out of a small studio and small apartments. In the future, this trend will increase the number of people and reduce the habitable area so that housing becomes even smaller.
Creating a fully functional and welcoming home in such an arrangement of limited space is quite a challenge that requires a bold and courageous way of thinking outside the box.Here you can take a course with us to see how professional designers and famous architects cope with this difficult task. So you can use their unconventional ideas and styles when designing your studio apartment. Decorators and designers should not forget that designing these small spaces is an excellent way to discover how successful it is to make the most of every inch of space so that you finally get a small, modern and smart home.
Studio decoration ideas for the year 2021
1-Create a special sleeping unit and use its size for storage compartments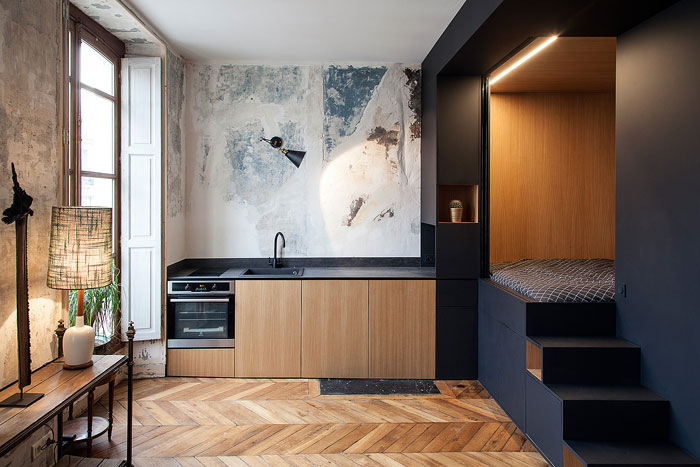 One of the first things that comes to mind when faced with a limited living space is where do I put all my things Here we have a great innovative solution from Batiik Studio which is a bunk bed that provides the necessary space under the stairs to create cabinets and provide storage.Sliding panels that provide privacy to the bed space and a full-height wardrobe on the side complete the image of this modern and smart design. A stylish functional unit, outlined in fashionable dark colors, can be a "must-have" option for any inhabitant of a small space.
2-color highlighting-paint the second level in different tones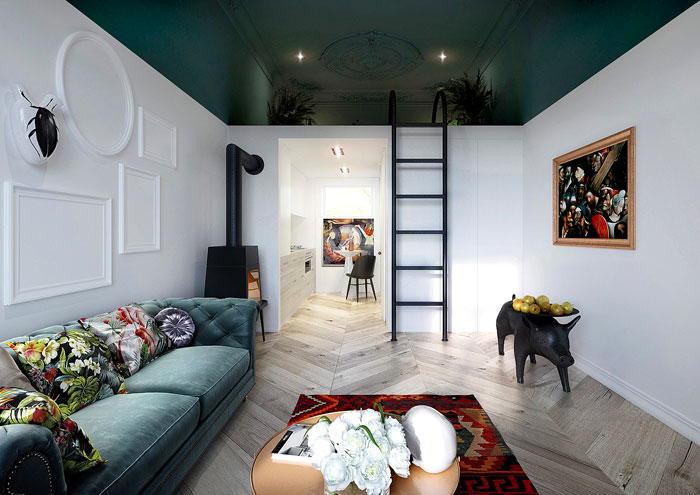 Painting this mezzanine floor with stylish and characteristic wall accents that visually separate it from the building creates the feeling that the bed area is a completely separate world. The design composition of this small apartment in Poland is based on the concept of duality of space:deep and rich green walls that accentuate half the ceiling of the space and separate the bedroom with its choice of lush vegetation from the rest of the interior with its retro design.This combination of duality has an almost mystical visual effect with its rich accents and details.
3 - sliding ladder-moving elements that can be hidden or mixed if necessary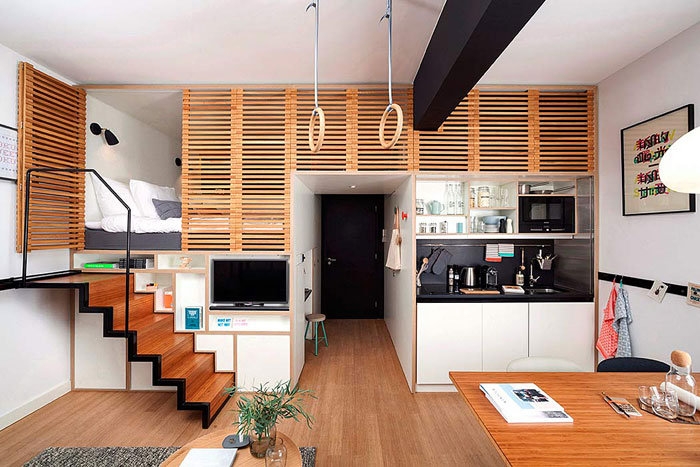 The sleeping area is used only at the end of the day, so this design is a completely smart solution, where the stairs that lead to the bed place are movable so that if necessary to free up space for daily activity, for example, if guests come, we can raise the stairs and add sofa chairs to sit them.This wonderful project for the design of a cozy and functional small space belongs to Concrete Architectural Associates for Zoku Amsterdam - a new type of short-stay hotel that promotes spacious small living units. The loft has an area of 269 square feet with an attractive and warm flexible design through the use of wood. The classic combination of smooth white surfaces and the base, with a black frame and wooden accents, is always refreshing.A playful design touch is the installation of Olympic rings to work with.
4. save space with a hanging bedroom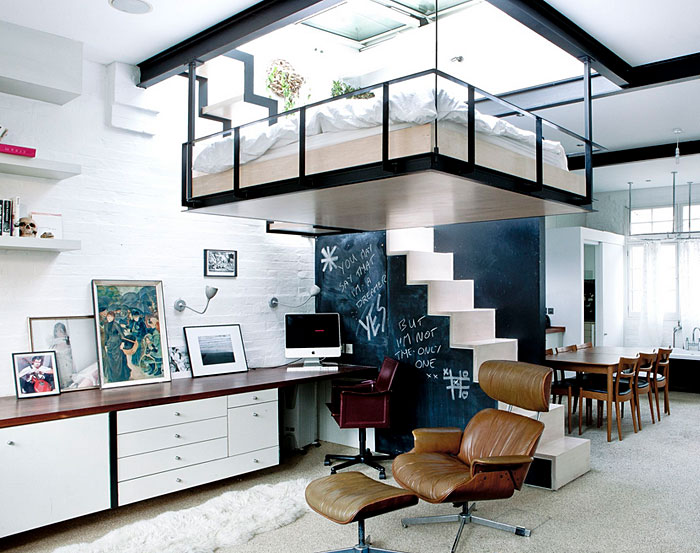 This dynamic composition of a modern small house is located in London and provides a charming focal accent for a bed hanging over such an active work area as with modern pieces of furniture.An unforgettable solution for restricted space options, as well as a large dining room table to gather all your friends, and the decorative touch of urban-themed stairs leading through the bedroom platform to a romantic skylight towards the roof gives a unique atmosphere to a small apartment.
5-Don't be afraid to use dark colors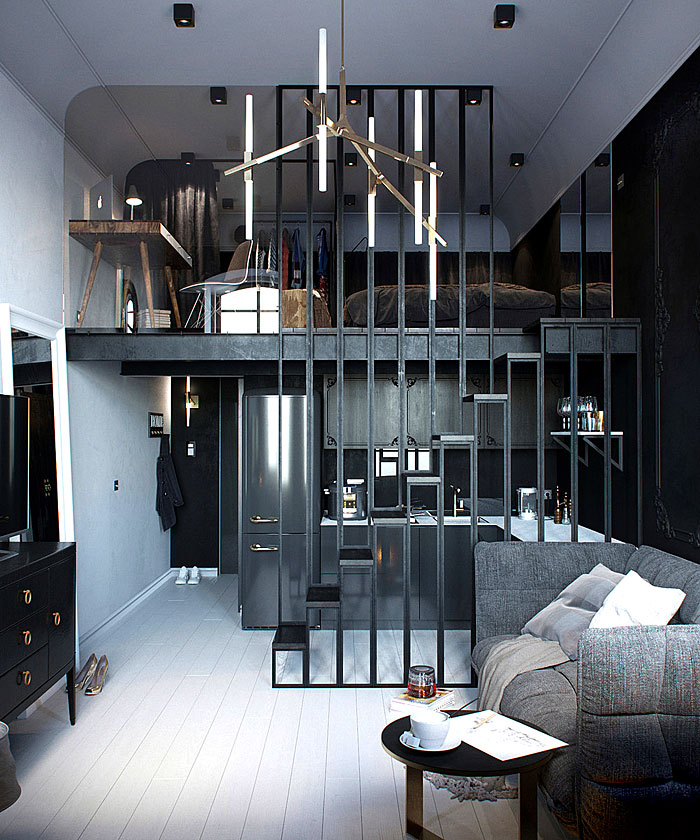 It may be controversial for some, but in this case it becomes a fact that the use of dark gray and black colors will not make the small space look smaller, quite the contrary it will give it a wonderful dynamic touch. The designer of this 258-square-foot studio used reflective surfaces, bold dark colors, and shiny metallic accents to createan exciting visual effect and a sophisticated atmosphere.He also did not forget to introduce white frames for floors and walls so that the design takes root, and gives the dark details lightness and cheerfulness.
6-take advantage of the space behind the sofa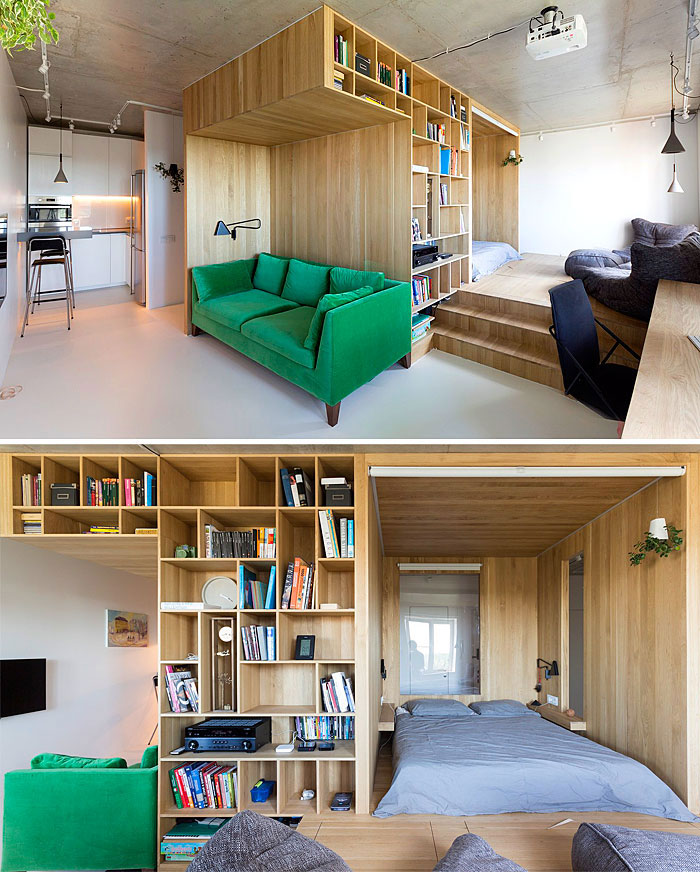 سيضمن التصميم الجديد والفني لهذه الشقة الصغيرة مساحة معيشة مريحة لأكثر mind person only لأن انبعاث الضوء ومناطق الجلوسالمتعددة ومنافذ الاسترخاء يوفر التصميم العديد mind الفرص للاسترخاء والمساحة الخاصة الهادئة.
7-movable wall with folding wall bed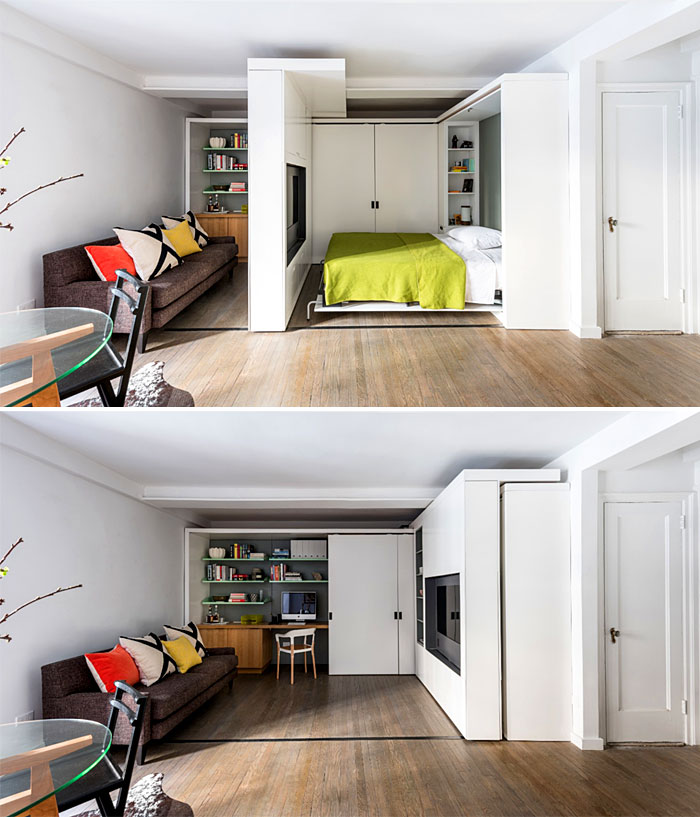 This high-tech dynamic solution aims to save a lot of space for modern urban housing because this compact apartment of 390 square feet can accommodate all the initial areas of the house, sleeping, kitchen, living room, bathroom, dining area, etc.because the latest development of MKCA research on small housing. The mechanical movable wall that deserves to be noticed by the hosts hosts a 180 degree swivel TV unit that can be used from the bed or sofa such as a hidden closet, dressing drawers, clothes storage and when fully extended it provides space for a folding bed in the size ofcomposition and thus the design is clever tidy and technically advanced; Oris this an exciting solution!
8-use glass partitions for better lighting of buildings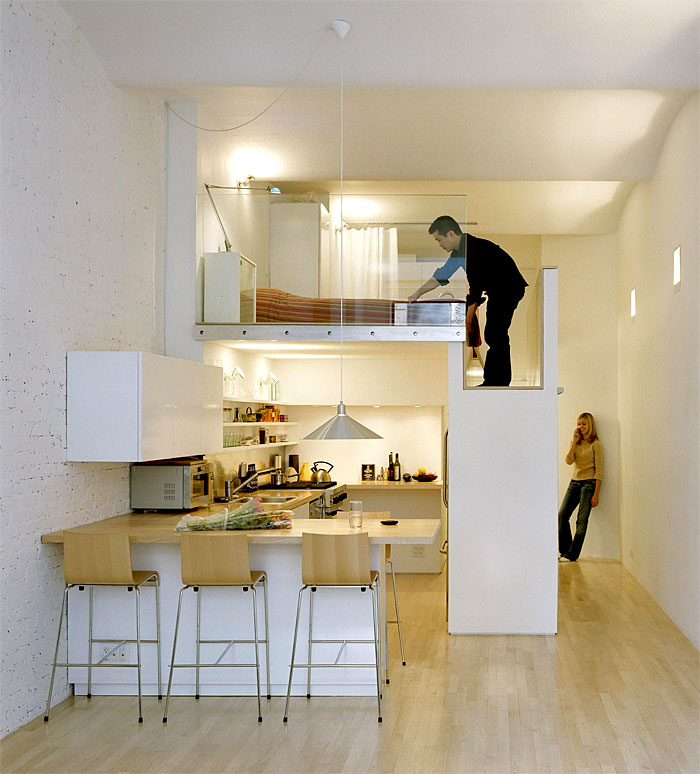 This small loft space unfolds its defined shapes and lines in a bright and stylistically pure interior atmosphere. The intriguingly innovative second-level solution saves its stylish and unusual design of the light flowing through the building and the glass partition of the bed platform secures the space and at the same time remains transparent for light circulation.
9. sliding glass doors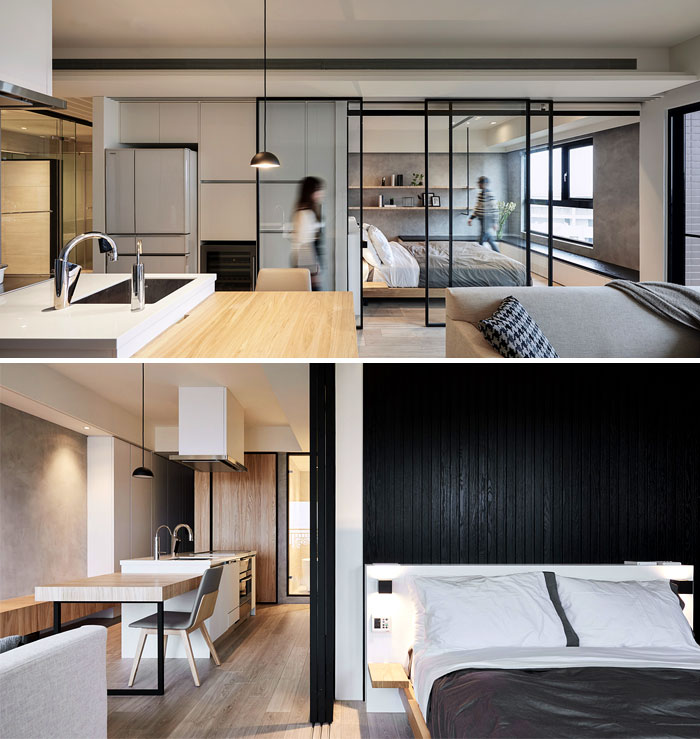 When creating this modern studio apartment for the decor of designers from INDOT, he gave it a distinctive feature of Asian style design for minimalism expressiveness. Natural materials such as wood and metal prevail over the material composition, and the main characters of the color palette are warm wooden textures for the floor and furniture with dramatic accents for the walls and frames painted in black. Gray and white spots scattered casually help maintain balance. Three sliding glass doors thatdeparate the sleeping corner from the rest of the building and give visual dynamics and a certain atmospheric elegance to the installation.
10-a circular separator that can host a TV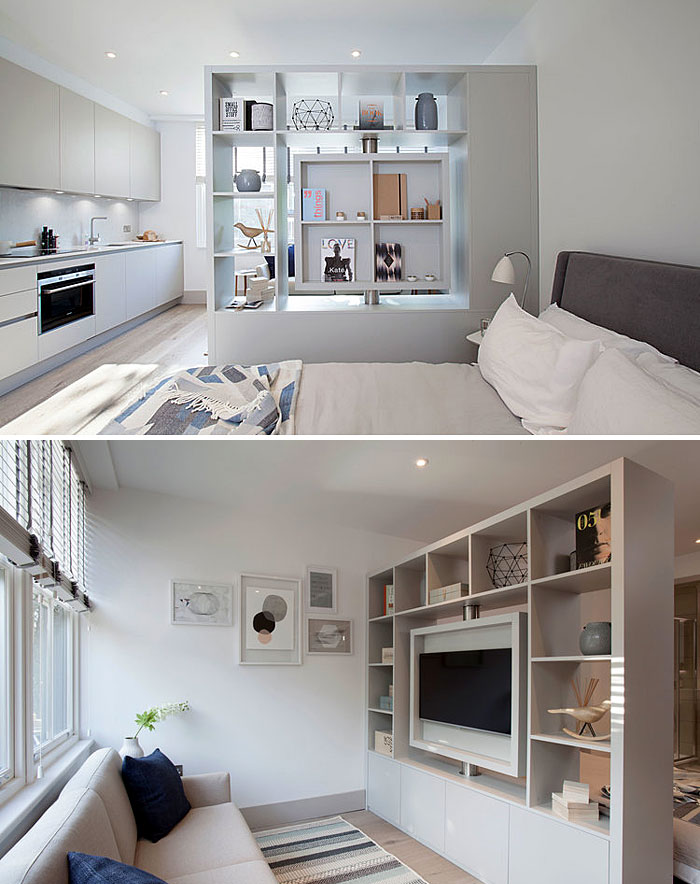 When dealing with limited space options, one has to be very creative and so a multifunctional space divider that rotates and can bringtv to the living room or bedroom is a useful talent. The design of this small apartment created by McCRUM offers smart solutions but the configuration of a bookshelf unit that separates the functional zoning and the introduction of a rotating part that allows watching TV from the sofa and the bed is thus a very practical style. In a studio apartment, while zoning your space, you can make a room divider and in doing so it works as a second thing as well as a room divider, this is also as a shelving and wall unit for the TV.
It is worth mentioning that cities impose narrower spaces for apartments, which causes them to be larger in the arrangement of purposes and stored in a decent way taking into account the aesthetic point of view.A large number of furniture manufacturers have furniture and cabinets that take into account the narrow space, and some of them have come to design versatile pieces to gain as much space as possible, so that the apartment does not turn into a cluttered or messy pantry.
In some apartments, the corners have turned into storage places, and sometimes a person feels that many secret places have become filled up, the wall may be a closet or a bed and a large table may come out of it, due to many techniques used by engineers and designers to take advantage of them to provide more space in the House.
In all of the above, we must take into account maintaining the appropriate distances for traffic and movement in order not to get stuck, as no matter how beautiful the place is, it becomes uncomfortable and we forget its aesthetics if it has something that hinders movement.
 
11-exploiting the spaces under the stairs
The space under it can be exploited in many ways, such as making these drawers boxes for storing things, and the space under it can also be made a library or a closet for hanging coats and hats.In the case of columns, they can be converted into open or locked cabinets, depending on the design.
١٢-seasonal wardrobes
Pascal also advises using the soft opening mechanism for cabinets in general, and considers that if the Cabinet is along the wall and its width, we can put a sofa in front of it so that seasonal items are behind it, and we do not need to move it always, such as carpets and a cleaning machine, winter or summer clothes depending on the season.
The table can also be stretchable and foldable, and placed inside a box in the wall so that all its items are placed in the box itself and be a beautiful decor element at the same time, and the same method can also be applied to the worktable, folding either inside a box or to the side of the wall, it does not take a place and opens when needed, and work tools from a computer, papers and others can be placed inside it.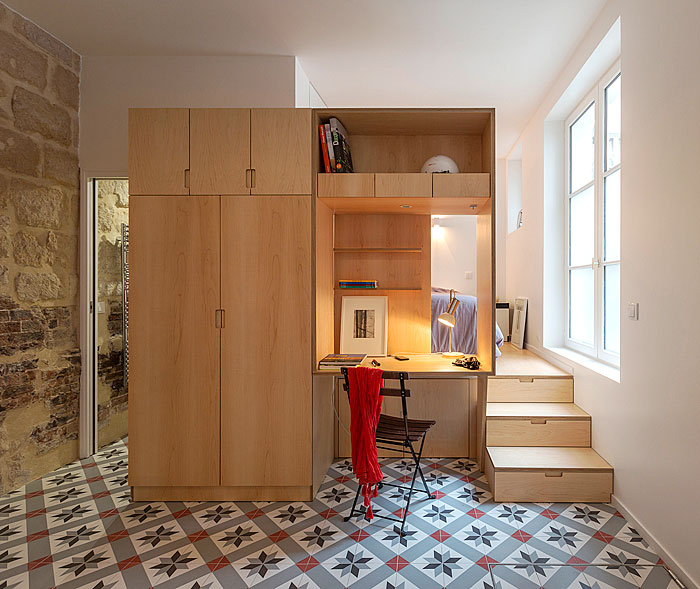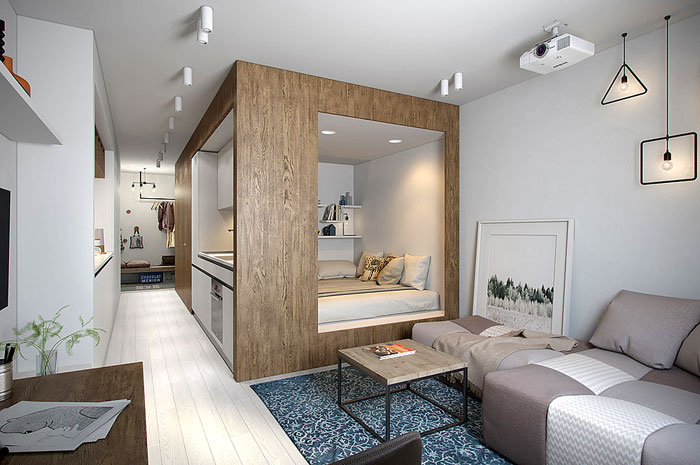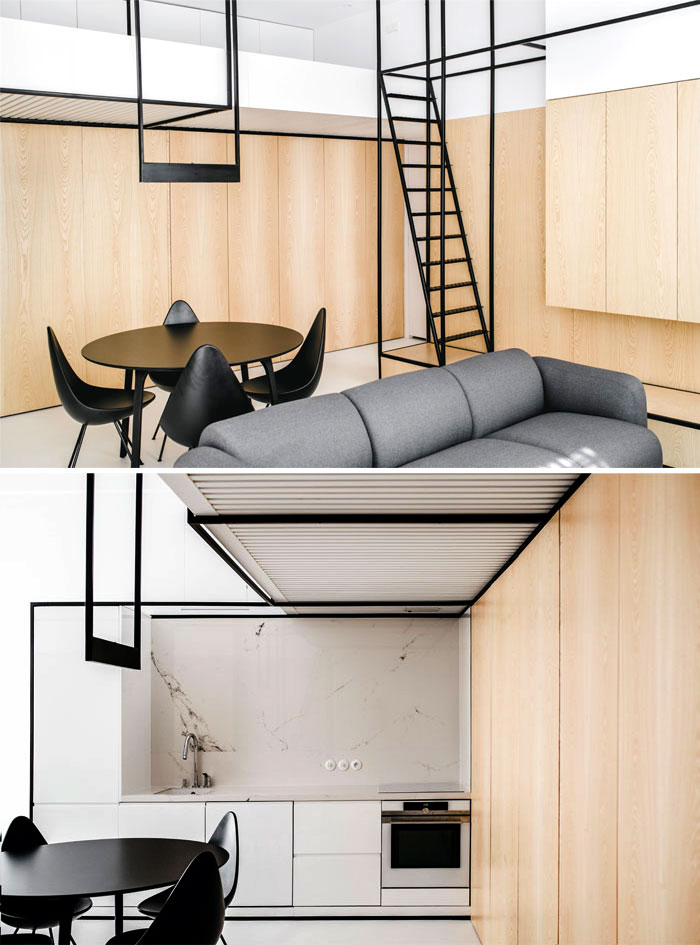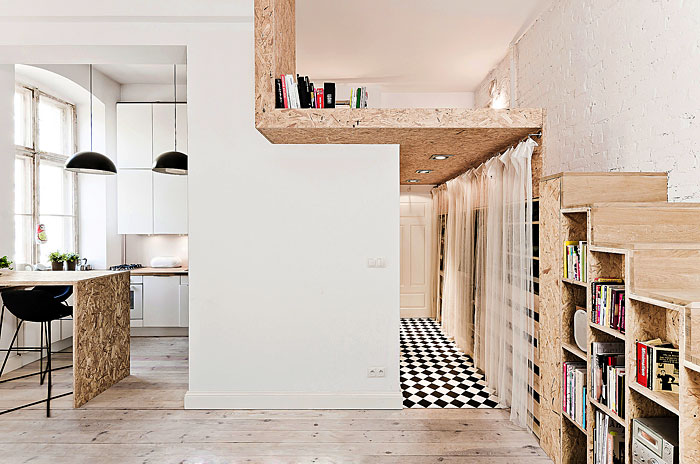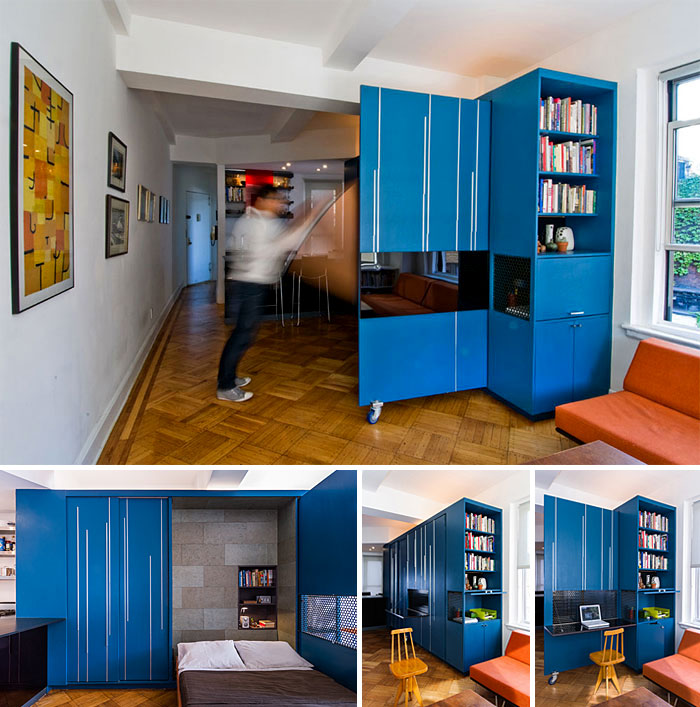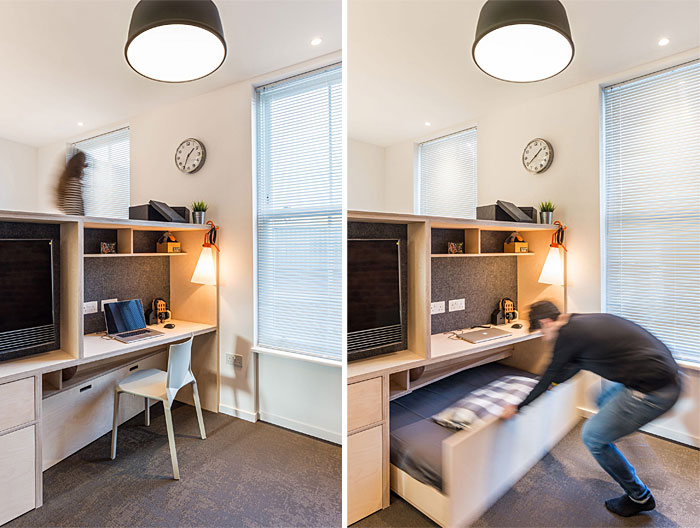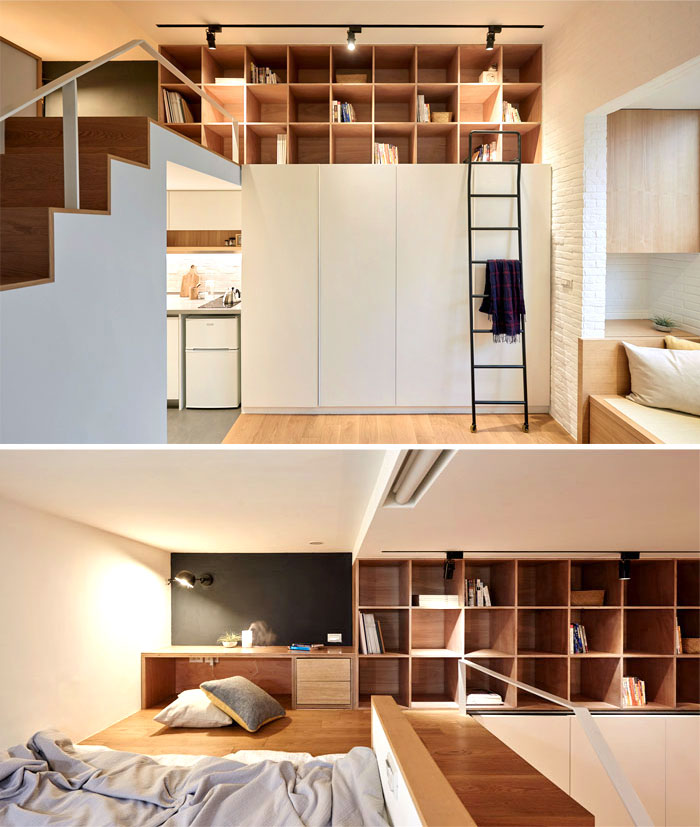 Studio decorations for the year 2021
Studio decorations for the year 2021