Ideas for decorating outdoor spaces-the area of balconies varies from house to house, while some houses have balconies with a large area, with which it is easy to arrange and place furniture and furnishings, others have balconies with narrow spaces, and you need some tricks to deal with them.
Below is a selection of ideas for decorating outdoor spaces or small balconies in a distinctive way, according to the SMD decorations website in Turkey.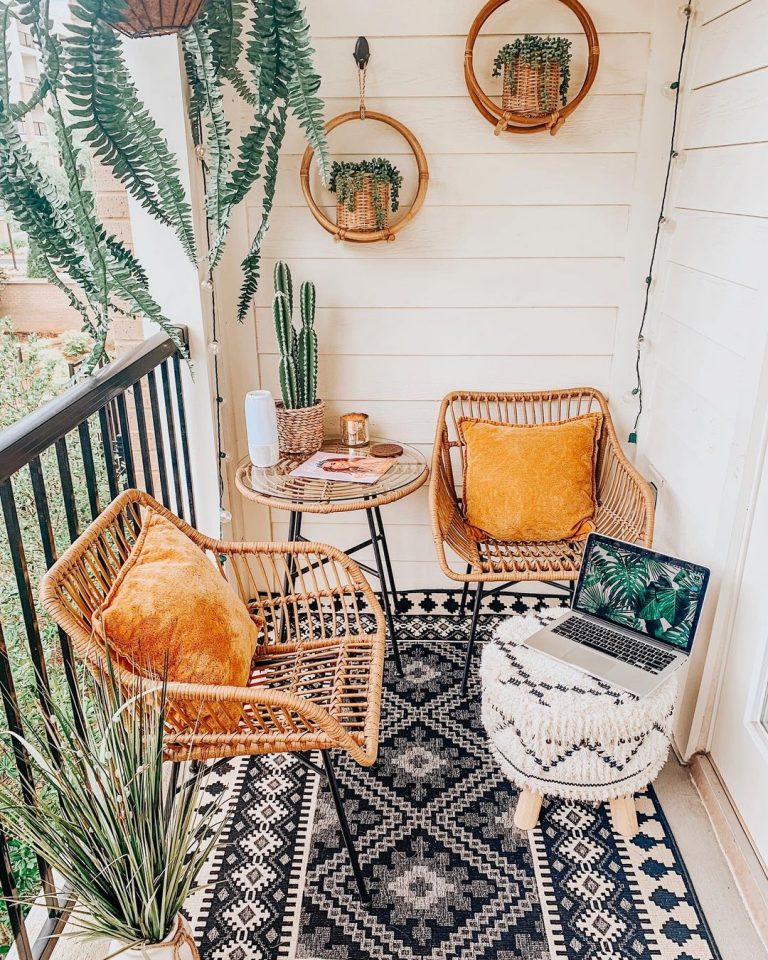 Outdoor space decor ideas
Ideas for changing the decor of the balcony of the House are varied and renewed, as we all need a quiet haven where we spend some time to get rid of work stress or to sit with family and friends, depending on our lifestyles, our tastes and ideas in decorating and renovating the decoration of the balcony of the House are different, where you can use one of the following ideas and develop it as you wish.
1-Arabic session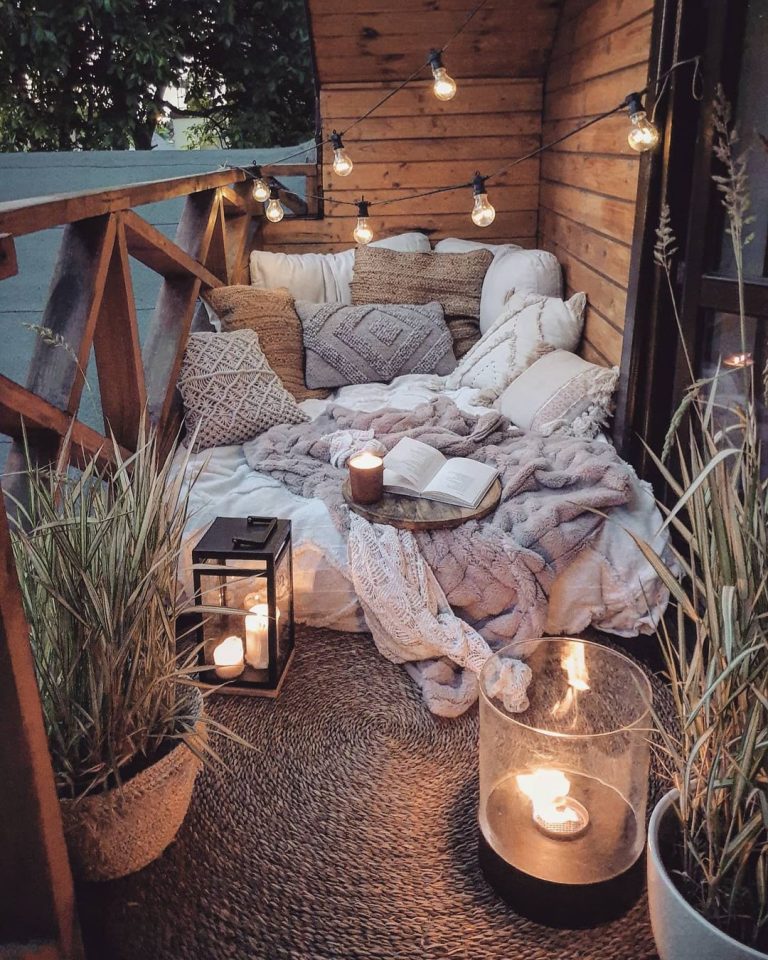 We start our first ideas with the Arabic session, as if you are a fan of Arabic floor sessions, the balcony of the house is the most suitable place for this, whatever its size, and it will be ideal if the balcony of the apartment is one of the balconies that includes a glass wall that allows you to see the outside horizon even if you sit on the floor. Detail a carpet that matches the floor area, add a set of pillows either in the heritage design, or cheerful color decorations can be chosen to add a youthful touch to the balcony.

2- hygge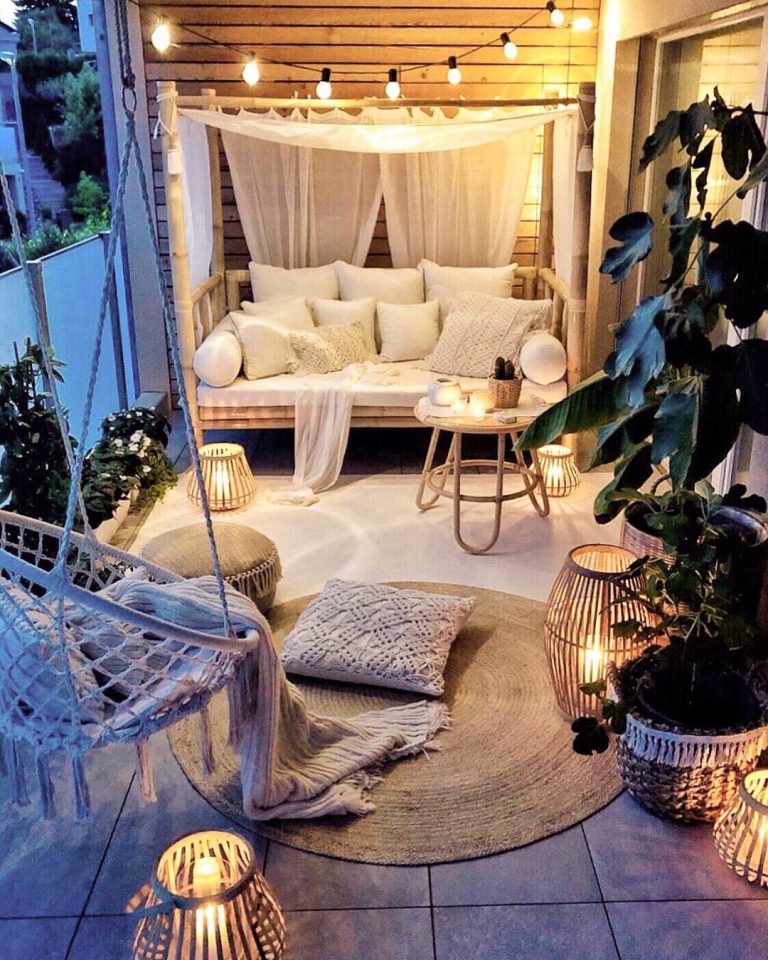 This hygge balcony offers the serenity of staying away in a log cabin or vacation retreat. Creating a small corner like this is easy - all you need is a floor mattress with a lot of woven pillows, an oversized woven blanket, a woven rug and houseplants of your choice.
4-balcony of dreams and romance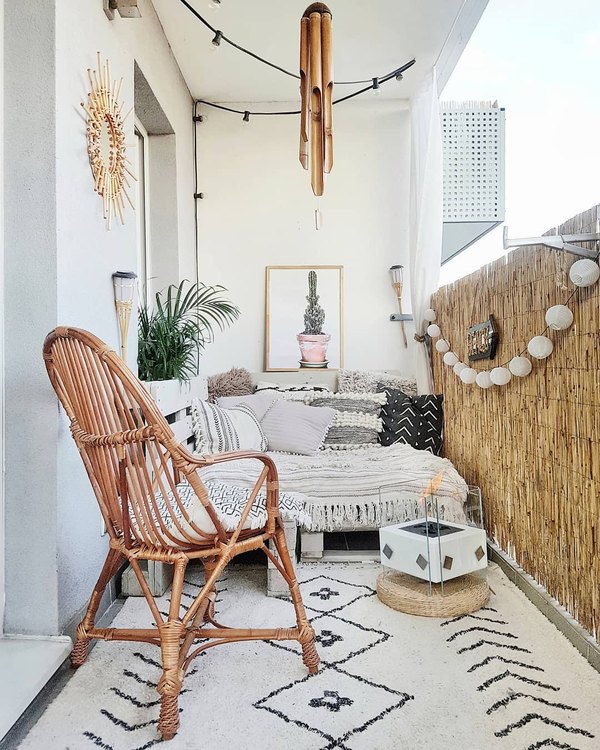 The outdoor sofa covered with transparent fabric is the display device here. But do not lose sight of the porcelain chair or rattan nightstand, or the glowing lanterns and lights that made the place fill with warmth and the feeling of a beautiful and warm atmosphere. Dreamy lighting is what makes this outdoor space the perfect place for a starry and romantic night out.
5. bow-style balcony is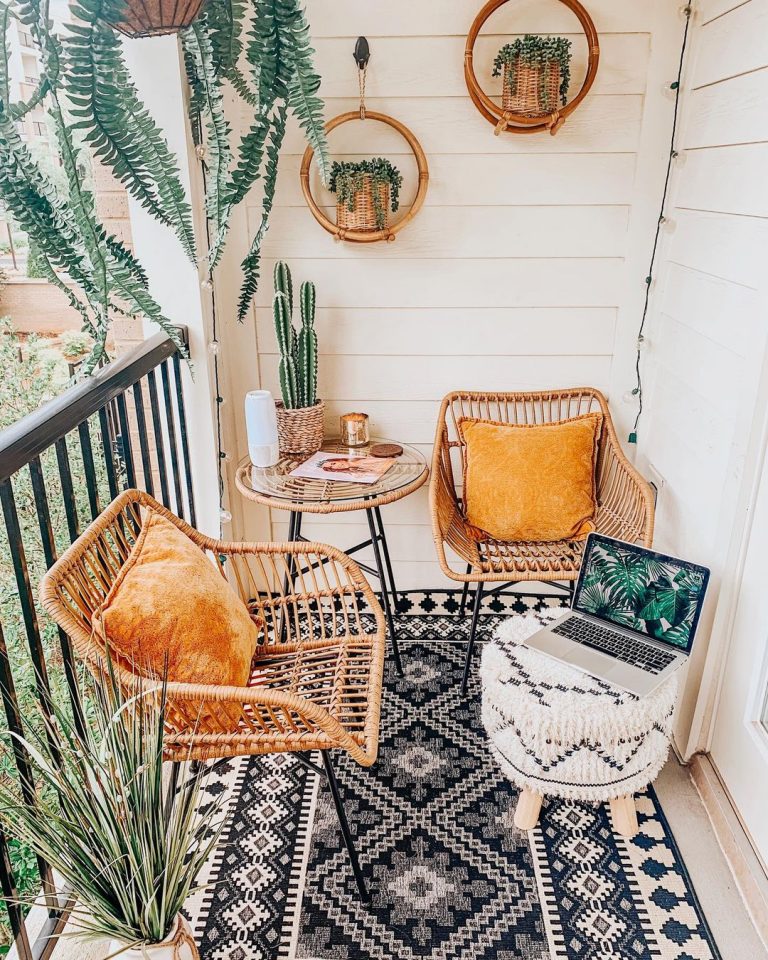 From the bamboo fence and the starburst mirror to the dais daybed, each piece is masterfully layered to create a combination of textures that pleases the eye. But what we really like is a hint of pink in the Cactus palette - and if you're looking for an excuse to splurge on a boho rug, this is the truth.
6-a terrace inspired by the atmosphere of the forest and plants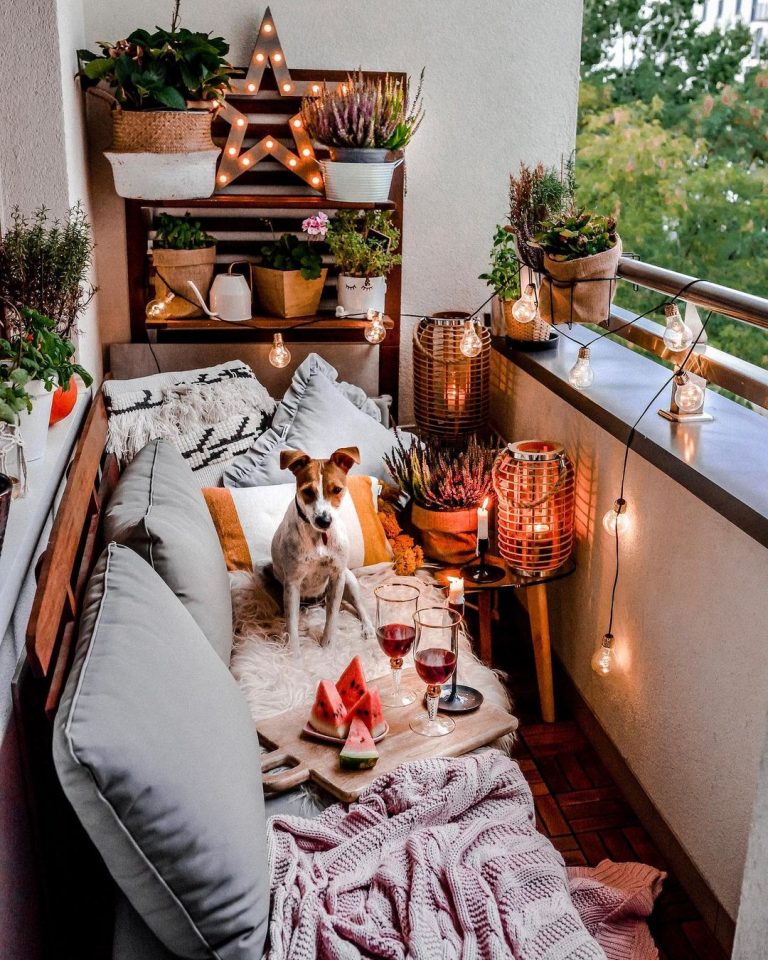 The enviable Jungalow-inspired balcony space becomes even more impressive when you see the before and after. This is achieved simply by adding a patterned carpet, bamboo furniture and an abundance of plant life, an easy style for a tenant to copy on a small balcony or veranda.
7. flashing lights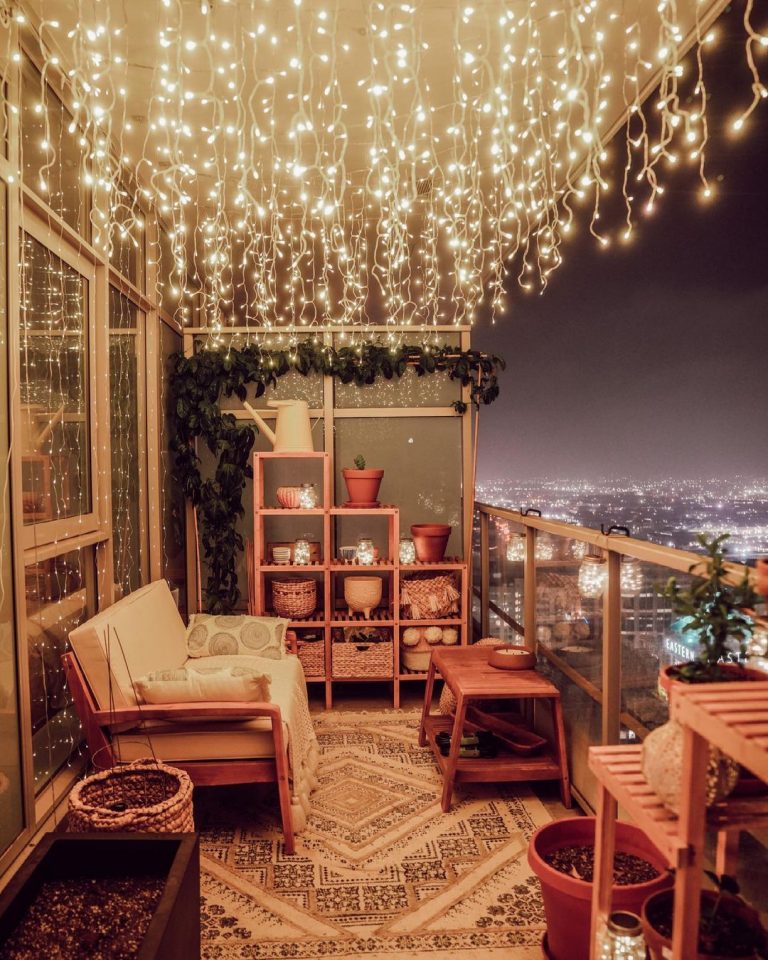 If you live in an apartment that has lost your garden, get inspired by filling your balcony with potted plants،
The lights flicker like this eclectic balcony. The combination of styles and colors used here works perfectly, and this luminous star brings it home.
8-a simple and feminine balcony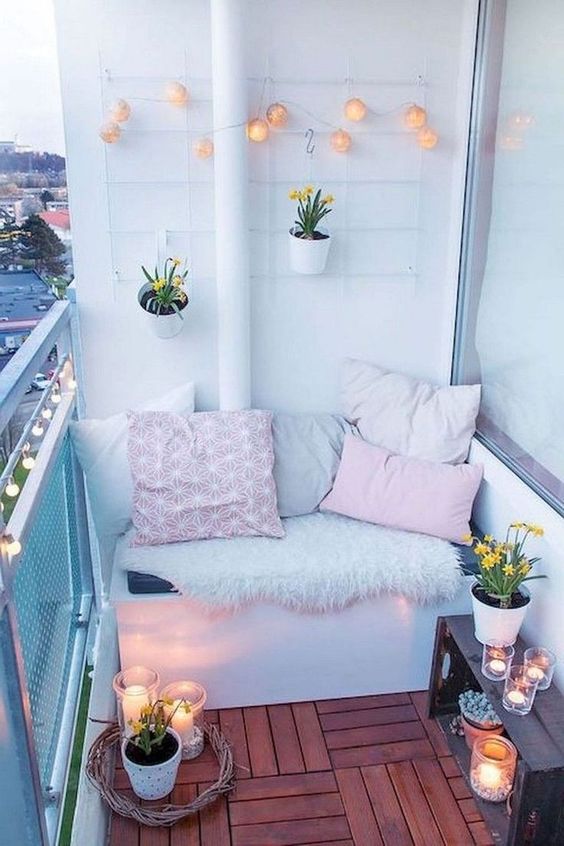 Simplicity and classics win with this feminine balcony. Interlocking flat tiles are used to refresh the floors, pale pink pillows enliven a simple white bench, and the wall space is used to display flowers. Lighted candles provide a great finishing touch to this elegant space.
9- Contrasting Textures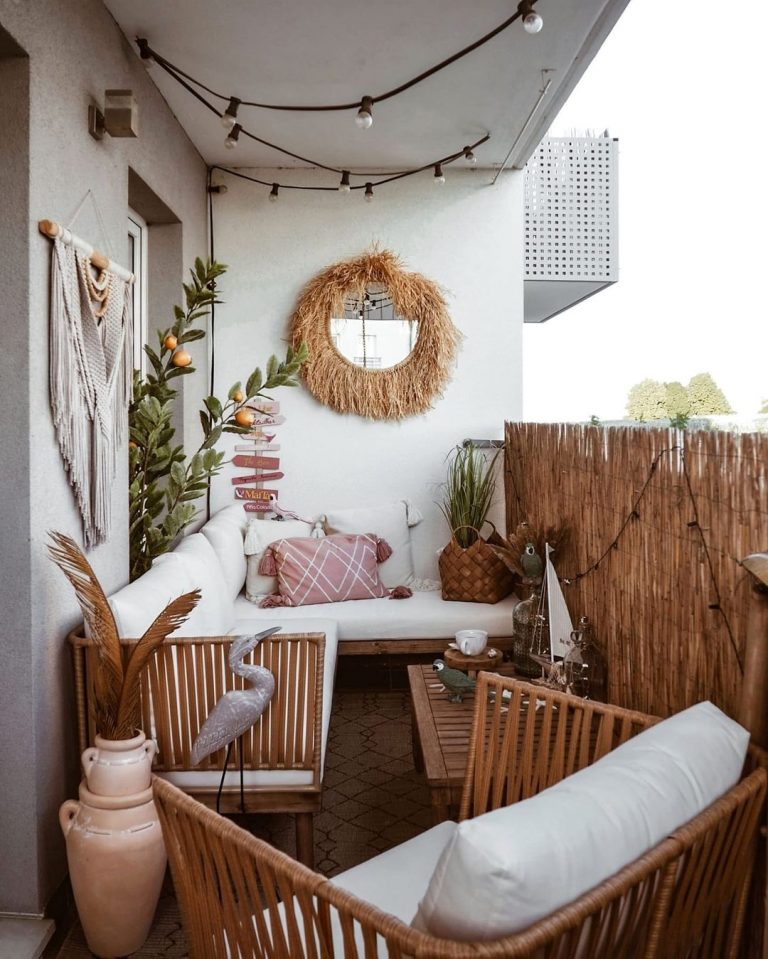 We never thought of an outdoor hanging wall display, but now we can't rest until we try it. Bright white pillows contrasting with bamboo sofa frames give this space a clean look.
10-don't be afraid to confuse two models
This design almost looks like a holiday just by looking at this design of a sunny and bright balcony. Don't be afraid to mix many different styles as shown here - boho style and modern geometry with a touch of pink for a relaxing poolside feel.
11-a balcony full of flowers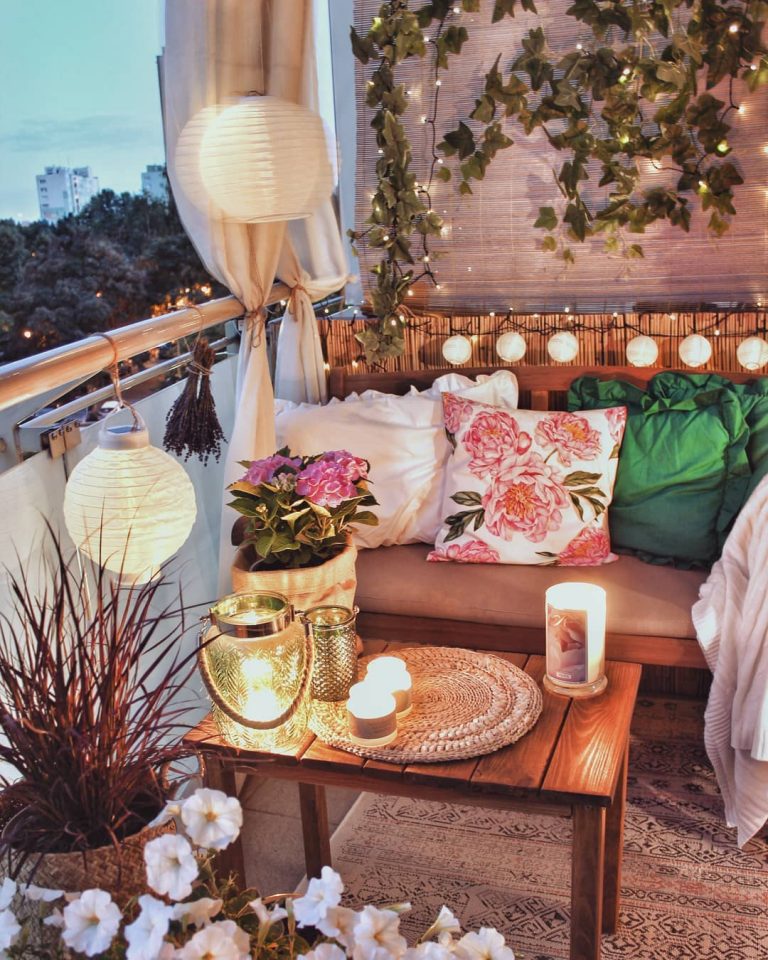 If flowers are your thing, this design will definitely inspire you to create your own small hidden Flower Garden on your balcony. A climbing vine creates the illusion that you are in a garden, and paper lanterns give the whole space a magical feeling reminiscent of childhood.
12-comfortable and glowing corner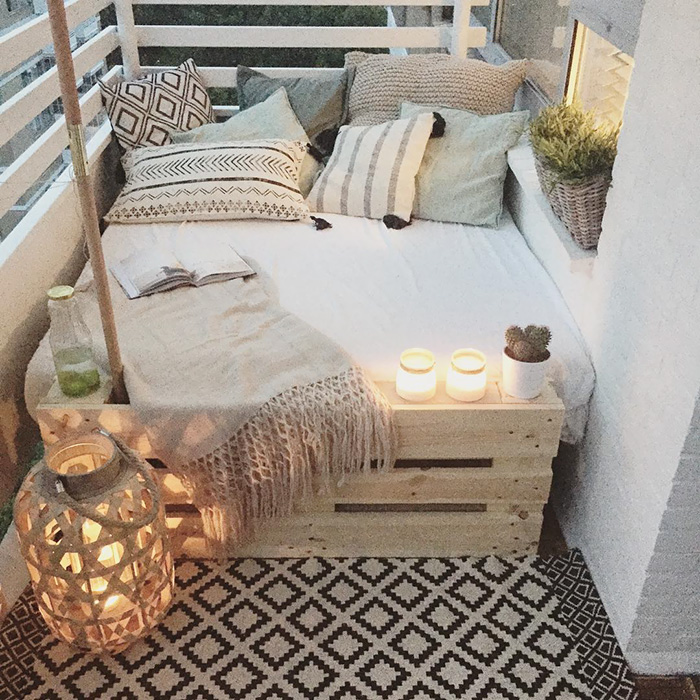 It's a safe bet that you won't be able to resist being soothed by a good book here every evening. If you are ready for life to take a slower pace (or maybe it just seems so from time to time) then it's time to recreate this setting on your balcony (or patio!).
13-Outdoor boho bed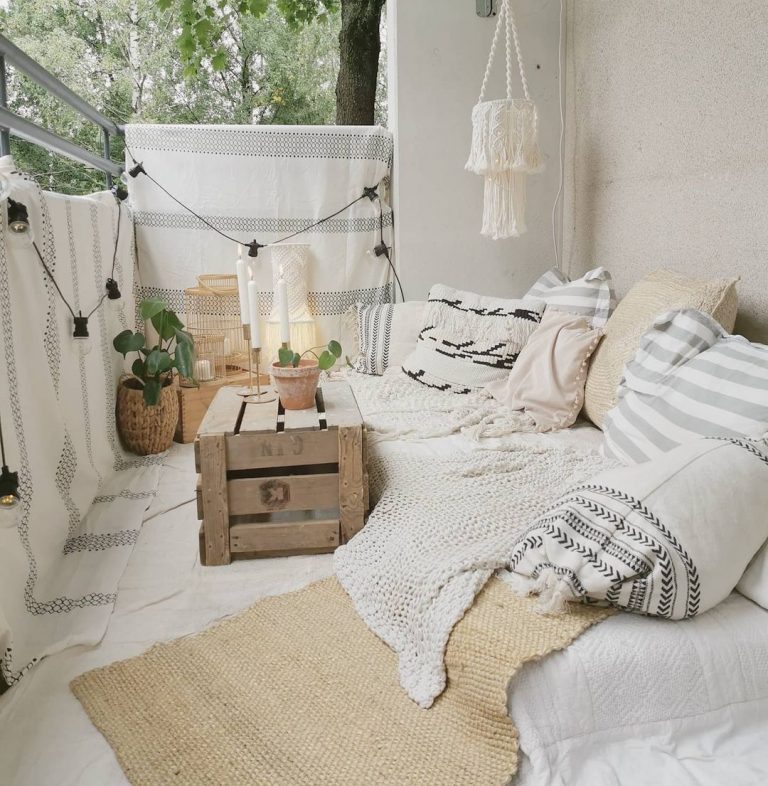 This outdoor bed, with hints of boho and hygge, looks very easy to create, we wish we had thought of it yesterday. Very simple and convenient, with a wooden box used as a table.
14-The Hanging Chair
A hanging chair is a great option to give some style to a secluded outdoor space. Such a version can be used on the balcony of the apartment, where you do not need to dig in the ceiling above with the addition of beautiful flower baskets, paper lanterns and the orange color of the carpet that came to make the place warmer.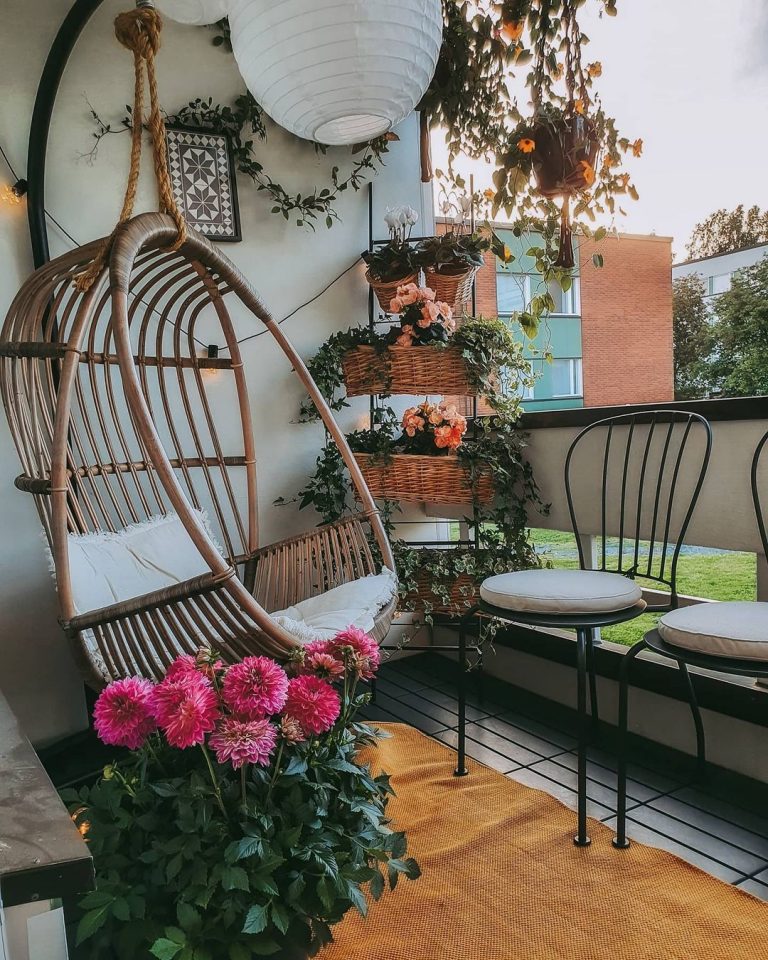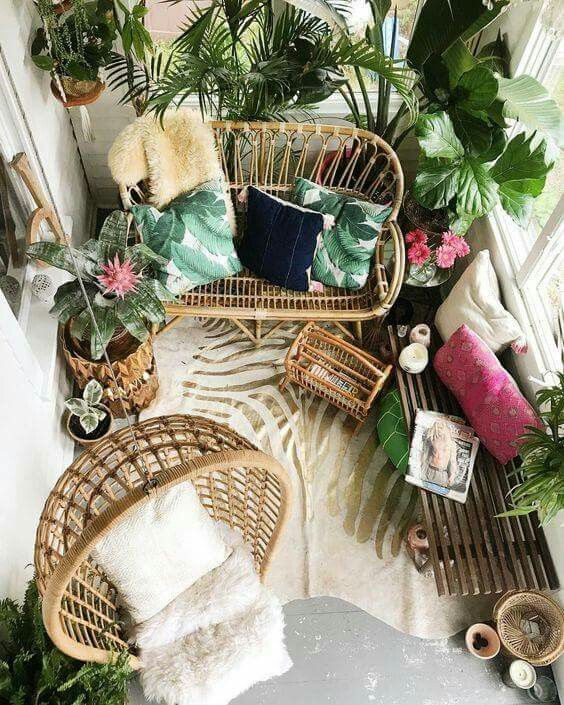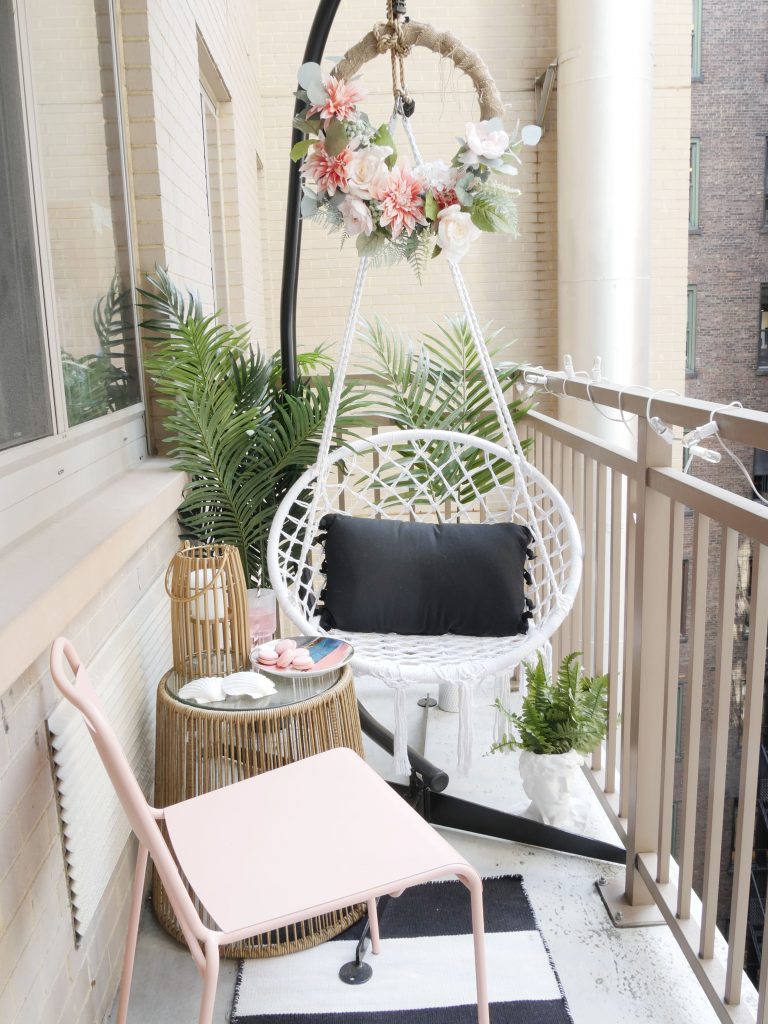 With this we have come to the end of our article, which highlighted ideas and tips for decorating the balcony of a house with a small area. You can subscribe to SMD decorations group in Turkey on Facebook and Instagram to stay up to date with our new works, news and other distinctive topics. We also advise you to read the plant care tips if you are going to add flowers and plants to your balcony, or if you are a fan of seasonal renovation, we advise you to check out the article How to equip the balcony of the house for the summer.
Outdoor space decor ideas